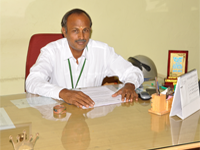 Dr.G. Venkadasalapathi, MBA., M.Phil., Ph.D.,
Director, (Self-Financing Courses )
My Dear Students,
The Self-Financing courses of G.V.N. College has Carved a Unique place in the Sphere of Education. The Student of Self- Financing Courses have brought Laurels by way of Securing university Ranks year after year apart from achieving higher percentage of pass in the final year exams.
I take this opportunity to thank the Faculty and Students for achieving this remarkable feat.
We have realized the student of Self-Financing courses are good in academic side but lack language skills. We see a bright future for the students of Self-Financing Courses in coming days.
Under the dynamic leadership of our Revered Secretary Sri. K. Selvaraj, our College is touching new heights. He motivates and directs the staff, both teaching and non-teaching to enhance the quality in every aspect in the College campus.
I convey my heartiest welcome to those who join this institute and best wishes to enter a new phase in their career life.